Wheelchair Accessible Vehicle (WAV) Conversion Kit
B-Style developed a new high-quality WAV conversion kit for the Ford Tourneo Connect.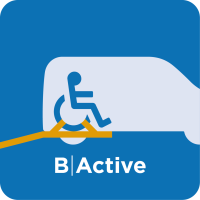 The B-Active conversion kit transforms the new Ford Tourneo Connect into a comfortable disability car. With decades in the industry (since 1973), B-Style knows exactly what is needed for a handicap accessible vehicle. We have thought of everything for the Ford Connect wheelchair accessible vehicle, such as a extreme light taxi Pop-up ramp, comfortable sitting position for the wheelchair passenger, easy entry, integrated B-Style winch, safe 5-point belt attachment that meets the strict European requirements and a beautiful finish.