Wheelchair Accessible Vehicle (WAV) Conversion Kit
B-Style makes it possible to convert a small fully electric MPV such as the Toyota Proace City Electric L2 into a wheelchair accessible vehicle.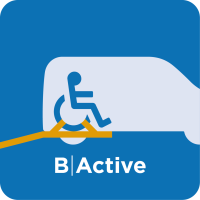 Every day we strive to make the transport of people with reduced mobility possible in a safe and equal way. Electric-powered vehicles are becoming more accepted and their market share will only increase in the coming years.Until recently, a fully electric wheelchair accessible vehicle was only possible with the larger MPVs such as the Peugeot Expert.With the arrival of the new B-Style B-Active for the fully electric Toyota Proace City Electric, this will change and families and taxi companies are no longer forced to purchase a larger vehicle.